Unique Metaflex Couplings
General Details
Unique Transmission Metaflex Couplings

Customized Disc Couplings available on request in various series
Metaflex Flexible Laminated Disc (Diaphragm/Membrane) Couplings are latest generation Couplings. Disc Packs of Series 80 range are unitized and are specially shaped to give flexibility & pure tensile loads for transmission of torque.
The Unitised design of disc packs permits easy assembly/disassembly without having to deal with large number of separate discs and washers.
The couplings can be supplied to meet API 610 /API 671 requirements. Various special designs are available to suit varied needs.
As our Prime product is "Metaflex", all metal  flexible disc coupling, this is a much superior product than other couplings and is being used as a preference by several end users in refineries, petrochemical industry, Power plants , Pump OEMs , Fan OEMs , Compressor OEMs, etc.  Moreover despite having great quality track record we are able supply the metaflex couplings/flexible disc coupling at a competitive price compared to our main competitors that comprise of John Crane, Thomas Rexnord, Flender,  TB Woods , Bibby Transmissions and Esco Couplings.
Our metaflex couplings are equivalent to
Metastream couplings marketed by John Crane;
flexible disc couplings sold by Thomas Rexnord;
Arpex couplings sold by Flender;
Form-Flex couplings sold b y TB Woods;
High Performance Disc Couplings sold by Bibby Transmissions; and
flexible disc couplings sold by Esco Coupling.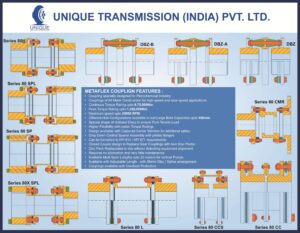 We are the leading source of exporting couplings from India worldwide as well as serving the Indian market . Naturally when an end user, an OEM or a distributor wants to import couplings from India they rely on Unique Transmission (India) Pvt Ltd. Export of couplings is a key specialization for us and we are actively growing our exports every year.
We export high quality product that can be securely transported through air/sea cargo at the choice of our clients in a time and cost efficient manner. Besides having the one of the best design, quality assurance and reliability record for several years our prices make our product one of the most economical product for our clients. In a nutshell we offer end users, OEMs and distributors the best value for money proposition for exporting couplings from India. Our large manufacturing capacity allows us to make high quality bespoke and standard products for our clients globally.